Talk about wind… Friday, May 4th will be one we will not forget… The winds were predicted, but nobody expected the forecast to prove true. 87,000 Ontario residents were without power and half of Clayton's Guardino Elementary School's roof blew to the ground.
Islanders watched as Lake Ontario flowed into the St. Lawrence River and in a matter of 90 minutes the water rose two feet. In fact many of us measured and it was only a couple of inches to the highest water level from last summer! But it went down just as fast and within and hour we were back to normal. The next morning Mother Nature's Marine Store (see Lynn McElfresh's The Free Outdoor Marine Store article) was open for business. We found long dock staves and lots of floating debris all day.
Then on Tuesday and Wednesday May 8th and 9th, the temperatures rose – yes Summer 2018 is just around the corner! The Pike Season has started and Garden Centers are open all around the River.
This Issue
Hardly time to read TI Life… Never mind, do so in the evenings, as this issue is now online and one you will enjoy.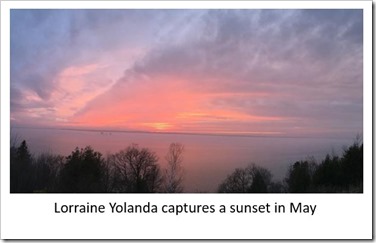 Memories: A River Rat's Mother, by Hilary Grimes-Casey and A River Journey to Meditation by Paula A. Allan and
Nature at its best: Goldilocks Sailor by Lynn E. McElfresh and Island Wildlife Rescue Centre by Heather Chitty.
We pay tribute to Gord Brown and Canada's Thousand Islands National Park by Jeff Leggo. And celebrate Happy Birthday - River Hospital by Wayne c. Strauss
It is the time of year to getting Kim Lunman's Summer's Here! Island Life Magazine 2018
New book excerpts to enjoy: An Excerpt: Taking a Bateau to Wolfe Island by Susan G. Mathis and The Castle built by Sewing Machines by John Reisinger
And once again we are challenged by Sudoku Puzzle #40 - Plus a DIY Grid Lesson by Dan LeKander.
.
New Contributor
Gord Brown and Canada's Thousand Islands National Park

Jeff Leggo grew up in Gananoque and started his career with Parks Canada as a park warden at St
Lawrence Islands National Park. After several years working at various parks across Canada Jeff returned to the Thousand Islands. After 35 years with Parks Canada he retired as the superintendent of Thousand Islands National Park in 2017, lives in the area and enjoys spending time with his daughter and two grandchildren.
Canadian Official Plan Changes
I know reading "official plans" and legalese is not easy. Even more difficult for those who come to the River in the late spring and summer. Yes, it is upsetting to be told that the public input is coming to an end. I also know that even though the Township tried to notify these same residents, it does not mean very much until we are here to listen and give our opinions in person.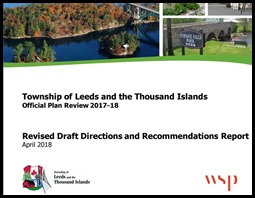 Over the years, I have been vocal in expressing my frustration to past councils for doing the planning in the winter months. In the past we have been able to make our dissatisfaction known in meetings. This year will be no exception – there will be a public meeting on Wednesday, May 23, 2018 5:00–7:00 p.m. Township Administration Office 1233 Prince Street and Saturday, May 26, 2018, 1:00 – 3:00 p.m. Lansdowne Community Hall, 1 Jessie Street. In addition the Mayor has assured residents that final decisions for a DRAFT plan will not be made until mid June. They recommend that you review the Revised Draft Directions and Recommendations Report. (Pages 16 & 17 refers to Waterfront properties)
Two Sides to Discuss
There seems to be two sides to discuss. The need to ensure future economic development and at the same time retain the historic and natural beauty of the Thousand Islands.
However, there is a concern that waterfront setbacks and regulations may make it difficult, to build docks, boathouses and other structures required by property owners on islands or along the waterfront. Stopping to think what that will mean to those who already own or want to own in the future is important. Don't just complain – do something with your opinions.
Start of Summer 2018
Recently I wrote on Facebook: "Season is about to start... who has photos of their boats now in the water... antique, new, same old (like mine) - does not matter. If you have a boat - send me a photo to celebrate the start of the 2018 season... "
We received over a dozen photos that deserve sharing, but this one had a story to tell…
Reply: Jim Weiskotten: I would love to, unfortunately she sits in the back of the garage hasn't been wet since 1996. Needs to find a new owner that can take the time she needs to get the 110 Gray Marine from 1954 back in shape."
Jim then sent his photos. Reminds us of our "old boats."
| | | | |
| --- | --- | --- | --- |
| Cali Being built in Irondequoit in 1953, Harry Ware taking an imaginary ride. | 1956, Lake Champlain after her trip through the canals to get there. | 1956, Family fun with hours of waterskiing. | [Click to enlarge all photographs] |
| 1993, The last ride for my Dad who built her forty years before. | 1993, serving as a rescue boat to a modern lass. | Making her safe from a falling down boathouse in 2008 | Her ride back to NY in 2011 |
| The four-hour trip to Lafargeville. | On her marine railway ready for launch | The engine… | [Click to enlarge all photographs] |
Please Remember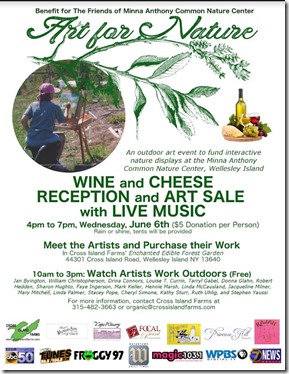 We certainly appreciate having you hit our button
at the top of each article and Support TI Life – although we: Authors, Photographers, Proof Readers and Editors –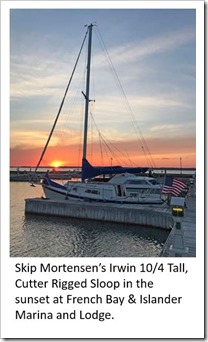 including this one(!) all publish TI Life as Volunteers, there are costs, including our Email Program - Constant Contact, and we must update our software, now working in its 11th year.
We also encourage you to Remember our Facebook page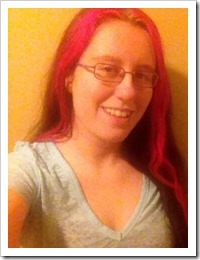 throughout the month, as we post information and photographs & follow us on

Please take your camera out on the River and capture the River come alive… but STAY SAFE! Send photos of interesting happenings to info@thousandislandslife.com.
And, this Editor is looking forward to receiving new submissions, throughout the year. I bet our readers are too!
By Susan W. Smith, Editor, info@thousandislandslife.com
Special thanks to editor Bill Stallan and proofreaders Rick Taylor, Georgia Barker, and Dane Zabriskie. I especially thank Mike Cox who is the magician behind the website. What a team …