Thanks for putting a Thousand Islands in your life in 2013 and we wish you and your family a happy and joyous 2014.
The December issue is always one of my favorites and this year we found some special gifts for you, our readers: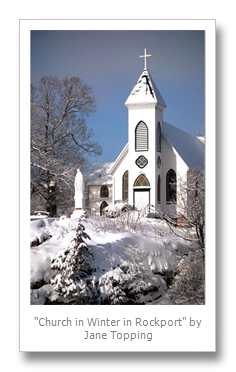 December gifts:  No December would be the same without Dr. Richard Withington's thoughts about life on Round Island  and Ian Coristine's selections for our Season's Greetings–Photo Contest 2013 

Thinking of others:  Martha Grimes tells us about her Special Weekend Guests  and helping Fort Drum families.  "Thanks to the Community… We've Moved" with photographs by Bill Munro, we learn about the Alexandria Bay Food Bank and Thrift Shop and its mission:  to reduce the hardships of those living at a low income level by providing clothing and household items at little or no cost based on financial need.

Fireside reading: Brain Freeze on the St. Lawrence, a short story by Chris Brock; Pictures of the Thousand Islands, circa 1886 shared by Robert L. Matthews; and Memories of Zenda from Nancy Bond.

Our 1000 Islands:  Hub Island by Lynn McElfresh and The River's Spell by Kim Lunman, Wings Like Eagles  by Patty Mondore,  A Gift from Brockville by Michael Chahley plus an Update from Riverquest by Morgan McLellan.

Helpful hint: Scott Ouderkirk, a glass artist who has moved permanently to the River in Hammond, tells us what to do with an old boat when she comes out of the water in Life After Death for a Wooden Boat.
New Contributors
Martha Grimes - Special Weekend Guests

Martha Grimes was born and raised in Alexandria Bay. She and her husband, Hunter, raised a son and daughter to love and appreciate the River as much as they do. During her career as an educator Martha taught various Primary Level grades at Alexandria Central School. Since retiring she has been actively involved with the Alexandria Township Historical Society and the interpretation of the Cornwall Brothers Store  & Museum in Alexandria Bay, NY.

Scott Ouderkirk - Life After Death for a Wooden Boat

Scott Ouderkirk is an artist, author and craftsman who now lives in Hammond, NY. A graduate of SUNY Oswego and the University of Hartford. His books include; The Amish Secret, Fallen Heroes, Sunday Drive, The Adirondack Run, Island Images, Barns and Wood, Waves and Wispy Smoke. Scott has been a speaker at the national conferences of the American Glass Guild and the Stained Glass Association of America. He is a board member of the American Glass Guild. Scott's work is found in many private collections and the permanent collection of Mansfield University in Pennsylvania.

 
Michael Chahley - A Gift from Brockville

Michael Chahley is concurrently studying engineering in Toronto and practicing entrepreneurship.  Intimately familiar with the 1000 Islands, he enjoys spending the summer days boating through the islands, exploring shipwrecks, and taking photographs of the region.  His new website,www.nothingisknown.com, is dedicated to sharing stories from our world to better engage people in conversations about it.  Michael was the winner of both the Gold and Silver Awards in the 2012 TI Life Photo Contest.
News from the River
Thousand Islands Land Trust  thanks Elaine Tack Vedette, who shared one of her short videos describing some of the Thousand Islands Land Trust's important work.  This brings back lovely summer memories.
The Kinsmen Club of Brockville Snowsuit Drive exceeded it expectations – collecting 1332 snowsuits, representing 102% of the goal.  Their organizing committee stated:  " If someone still needs a snowsuit, mittens, hats or scarves they can call the Family & Children's Services at anytime over the winter months."  See the full story on ENO website.  ( ENO Eastern Ontario Network was formerly Brockville News/BNTV)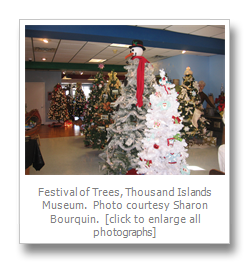 The Thousand Islands Museum celebrates the holiday season with the annual Tree of Trees display.  They also have an empty skiff ready to be filled with donated items for the Clayton Food Pantry.
The Thousand Islands Performing Arts Center a the Clayton Opera House announced the departure of their executive director, Joe Gleason at the end of the year.  He writes, "I have enjoyed the past two years as the Executive Director of TIPAF and I thank all of you for the support you have shown to the opera house, a true gem in the 1000 islands region. Although I will be leaving soon, I will be here through our last show of the season, the Northern Lights Orchestra Christmas Concert on December 19.  If you are in the area, please consider coming to the show and enjoy some great Christmas music!  Immediately after the show on the 19th there will be an informal gathering to celebrate the end of the 2013 season." Andrew Wood has agreed to serve as interim director.  TIPAF's board will begin an immediate search for a new executive director. Information concerning the position will soon be available at claytonoperahouse.com.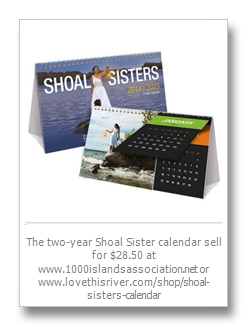 The Shoal Sister Calendar is out!  The Thousand Islands Association reports, "This Spring and Summer of 2013 saw 22 Shoal Sisters grab their lamps and "hit" the shoals with their photographers.  From 11 moths to 94 years of age, from Brockville to Wolfe Island, Alexandria Bay to Grindstone…"  The Calendar, good for two years, from 2014 – 2015, is available with all proceeds going to help TIA and its shoal marker program.  Order them now at www.lovethisriver.com.
[Editor's note:  My calendar just arrived, and I am impressed…  Many of my friends are models  and  the results are a beautiful tribute to the River.  A nice way to say thank you for keeping me off the rocks!]
Ashlie Corcoran, Artistic Director of the Thousand Islands Playhouse, unveiled the company's 2014 season stating it was "a diverse collection of plays including an intoxicating and lush musical, heartwarming tales of friendship, a sparkling classic comedy and cutting edge award-winning theatre!"  The 2014 shows are... Driving Miss Daisy, A Comedy of Unlikely Friendship, May 16- June 14,;She Loves Me, a musical, June 20 – July 19; Jake's Gift, A Journey to Juno Beach, July 1 – July 19; The Importance of Being Earnest, A Sparkling Classic Comedy, July 25 – August 23, The Ugly One, A Razor Sharp Black Comedy, August 15 – September 20; Waiting for the Parade, A Canadian Classic, August 29 – September 20; and Educating Rita, A Clever Comedy, September 26 – October 18.
Island books!
Looking for a special book?  Independent book shops in the region are well stocked this year.  We encourage you to visit and request regional books.
| | | |
| --- | --- | --- |
| Leeds County Books, 73 King St W, Brockville, ON K6V 3R1.  (613) 342-5728 | Novel Idea, 156 Princess Street · Kingston, ON,  K7L 1B1 · Tel. (613) 546-9799 | Corbin's River Heritage, 510 Riverside Drive, Clayton, NY 13624. (315) 686-2275. |
Reminder

Remember our facebook page throughout the month, as we post information and photographs  &  follow us on Twitter

Do you write about the River - near to it, from above or below?  If so, please consider submitting an article.  Let us know what you like, or dislike, about TI Life so we can share more ideas.  And… most of all please ask questions and leave comments.
Christmas Parade 2013 in Clayton NY
Our thanks to Gary Walts for sharing his Parade Photographs with TI Life.  Gary is a native of northern NY, and has been a staff photographer for the Post-Standard for 27 years. He has freelanced for Associated Press and others  including USA Today. He has also had photographs published in Life Magazine on two occasions. Gary is also a classically trained guitarist and teaches guitar part time.  [Gary will be profiled in TI Life in a future issue]
By Susan W. Smith, Editor  info@thousandislandslife.com
Special thanks to our editors David Ray, Jane Taylor, Bill Stallan and Georgia Barker.