Written by
Susan W. Smith
posted on February 13, 2017 15:10
What an unusual February. Usually, we have a frozen River. This year we have open water, some frozen bays, wind, freezing rain and sunshine. All part of Winter 2017 in the Thousand Islands. This month's articles are just as unusual.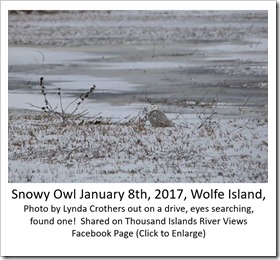 We start with Lynn McElfresh's 98th article for TI Life. Have you heard of The Grenell Island Yacht Club? No, and neither have we.
Have you cleaned out an attic or found a treasure? Probably ! Well, Jane Rippeteau Heffron's, presents String Too Short To Save - all about finding special family treasures. And, speaking of treasurers, we thank Martha Grimes for finding another story written by her late husband, Hunter Grimes III. The story was tucked away in a book for many years. Treasure Among the Islands.
Then Gerry Smith is back with River Birds: 40 Years of Change, Part II, Mixed News. Once again his knowledge is shared with all.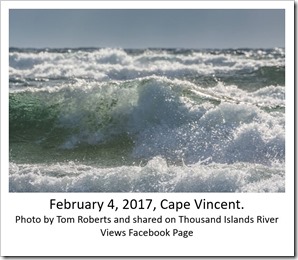 Laura Foster, director of the Frederic Remington Art Museum, gives us background to the Remarkable Additions to the Remington. And Sharon Bourquin, Director of the Thousand Islands Museum in Clayton, NY, tells the story of Who Was May Irwin?
Tom Robbins offers excellent hints for seeing The World in Three Inches, and I once again introduce Dennis McCarthy and his New Passion for Sharing the Islands.
David Inglehart gives us a sneak preview to Near the Borderline now available for pre-order on Inkshares.com, a crowd-funding based website
We conclude with Dan LeKander's February Sudoku, a Difficult One!
Karma?
Perhaps it was the fact that we are wimps and missed January and February storms, by heading to sunny Florida, but soon after arriving my computer crashed and after taking the attitude, "nothing that money can't fix" we were back in business. Dutifully having listened to my husband and having a Back Up, we retrieved all TI Life files and photographs from the cloud.
Next came some frantic calls to Mike Cox, the incredible volunteer who, since 2008, has kept TI Life posted each month. Our problem was simple, the software is a decade old and my method of adding photographs and captions (a Polaroid Plug-in) is no longer available. After language, unbefitting, etc. I have found a poor substitute and this month you will see the results. Over time we will solve this, but until then, I hope you will disregard the "look" and just enjoy each and every article and photograph.
New Contributors
Tom Robbins - The World in Three Inches

A third-generation summer resident of the Thousand Islands, Tom's career has taken him from the White House to Madison Avenue, Hollywood, and now Silicon Valley. His lifelong love of the St. Lawrence parallels his personal and professional interests in film production, photography, and writing.
Laura Foster - Remarkable Additions to the Remington

A graduate of Emma Willard School and the College of Wooster, Laura Foster has served as the Frederic Remington Art Museum's curator since 1989 and in 2013 she was appointed director. Laura is part of the Frederic Remington Examination Committee, a panel of four experts who meet annually at the Buffalo Bill Center of the West and give unanimous opinions on Remington paintings and drawings submitted for scrutiny.
David Inglehart - Near the Borderline


David Inglehart is a native of Watertown, New York, who grew up in the Thousand Islands and helped introduce ski-flying to the area, using hang-gliders designed to be towed aloft behind a boat. A graduate of Colby College, he flew gliders as well at Sugarloaf Mountain, Maine, and went on to participate in the First World Hang-gliding Championships, held in the Austrian Alps, in March, 1975. He worked as a staff writer at the Watertown Daily Times, and later received an M.A. in English from the Breadloaf School of Middlebury College. He now lives in Bath, Maine, with his wife, Donna Inglehart, author of the popular novel Grindstone, and co-author of Ian Coristine's One in a Thousand.
Border News
Officials on both sides of the border have been working to bring Canada and the United States mariners closer in the Thousand Islands. Recently New York State Senator, Patricia A. Ritchie, (R-Heuvelton) presented testimony before the Canadian Parliament's Senate Defense and Security Committee.
Mrs. Ritchie and several members of the Canadian government are part of an international lobbying effort to convince the Canadian government to ease reporting requirements when US boaters are just passing over the border line, while fishing or cruising, and not having to call-in to Canadian customs.
In simple terms, stay tuned!
Mild Winter
Our thanks to Jeffry Weldon for sharing his video of our River – He asks if you can find the eagle in the tree?
Published on Jan 29, 2017
High in the tree by the boathouse sits a Bald Eagle. On a Sunny January day we flew our drone over Frederick and Susan Islands (connected by a bridge) and started at Rock Island Lighthouse.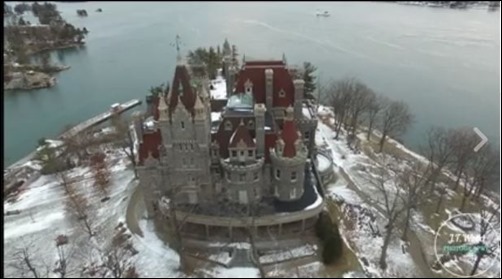 A Wintery Boldt Castle: Standing guard over the icy St. Lawrence River. By JTWood Photography.
(Photograph is linked to video)
Thanks to Geoffrey Pratt for capturing these photos in February… What? Yes, a photograph of the Gananoque Municipal Marina this winter. Bet you wish your boat was in too.
Please Don't Forget
Remember our Facebook page throughout the month, as we post information and photographs & follow us on
We also appreciate having you hit our button at the top of each article and Support TI Life – We have started to work on our new format. Stay tuned…
If you are driving by the River, or out ice fishing, once the safe ice has formed – take photographs, please. Send them to info@thousandislandslife.com.
And, this Editor is looking forward to receiving new submissions throughout the winter months. I bet our readers are too!
Special thanks to proof reader Rick Taylor and editors, David Ray and Bill Stallan, (who is my co-editor. I especially thank Mike Cox who is the magician behind the website. What a team…
By Susan W. Smith, Editor, info@thousandislandslife.com