The warnings have started with several Clayton Storm Alerts already appearing. The water levels are back to the late Fall norms – be sure to check over the winter for changes.
This is a festive month as family and friends make their way down our main streets looking for the perfect gift. Our only suggestion is to stay warm, take time to rest and of course enjoy our 2017 December issue.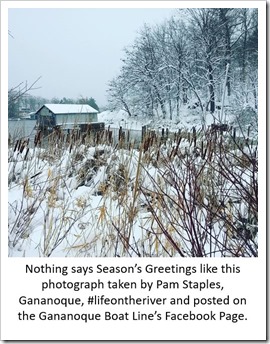 This Issue
December is a wonderful month to publish TI Life as it is filled with articles that I am sure you will enjoy.
Photographs par excellence:
Ian Coristine chose our 6th Annual TI Life Photo Contest Winners (This editor is pleased it was his task and not mine, way too difficult.) We split the article in two. The Winners and the Honorable Mentions..
A Christmas Yarn:
Charles MacLean Cochand spins a new/old tale in Christmas Mystery Rendez-Vous
Special People, Boats and Dogs:
We all think our caretakers are special people - here is one you have to meet with Bob Anderson's The Incredible Mr. Empey from Butternut Bay. And, what about our Lymans – meet Wayne Strauss and The Lyman in My Life. while Tom King pays tribute to Snickers, in Dock Dog.
Favorites:
Lynn McElfresh, with her 107th article, hits the mark with Island Fashion Through the Decades. and Rex Ennis shares a most interesting tidbit this month with The Catamaran: Primo, Richard Palmer provides a look back with Small Harbors, and Dan LeKander provides Sudoku Puzzle #32.
Nice surprise for you:
We found a travel blog: RoarLoud.NET Visits the Thousand Islands
New contributor
Hilary Grimes-Casey, Illustrator

Christmas Mystery Rendez-Vous, by Charles MacLean Cochand

Hilary Grimes-Casey is an energy efficiency consultant and mom living in Manlius NY. Hilary writes and illustrates for the amusement of friends and family. She was raised in Redwood NY and on Mink Island, in Hammond NY, and regularly contributed writing to the "Thousand Islands Sun" on behalf of Save The River from 1997-1999. She aspires to spend more time at the Mink Island camp that Hilary and her husband purchased in 2015, and to write a great Thousand Islands novel.
New Welcome Center to New York State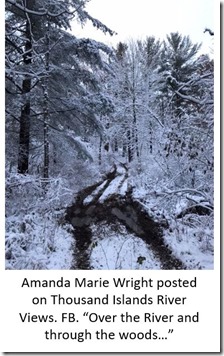 New York Governor Andrew M. Cuomo announced that a North Country Welcome Center will be open in 2018, near the Thousand Islands Bridge, in Collins Landing, Jefferson County, NY. There are 11 Centers planned for New York State to promote tourism. The Center in the Thousand Islands will feature local attractions such as Heart Island's Boldt Castle and the Antique Boat Museum in Clayton as well as local foods, craft beverages and other places to visit. (The complete press release is available here.)
Gord Brown Works to Reduce Flare Requirements
Gord Brown, Canadian Member of Parliament for Leeds-Grenville-Thousand Islands and Rideau Lakes, says he is pleased that Transport Canada is working to reduce and eventually eliminate the requirement for pyrotechnic devices (flares) on-board pleasure craft in Canada. In June, Brown introduced a Motion in the House to have the Transportation Committee review the requirement for carrying flares. He noted at the time that they are costly, dangerous, and difficult to dispose of when they have expired at the end of four years. In early December, Brown received a letter from the Honourable Marc Garneau, acknowledging that Transport Canada is currently in the process of preparing amendments to the Small Vessel Regulations, to provide options to vessel operators who wish to reduce the quantity of pyrotechnics they are required to carry on board.
We will keep track of the outcome, but suggest Canadians speak to their local marina operators, to learn when official changes are announced.
Coming Soon in TI Life
Several new articles already in the works. Book Review: John Lefevere's newest book: Jewels And Ghouls (A 1000 Islands Novel, Book 2). Tribute: to the late Dick Macsherry, written by Janet Gregware, and how about a June article, celebrating the building of the Thousand Islands Bridge and its 80th Anniversary written by Wayne Strauss.
Have a Happy and Safe Holiday
Sincere Appreciation
My sincere appreciation to everyone who entered our contest this year. I was the lucky one and I got to accept each and every entry and enjoy them all. To me everyone is a winner.
Please Don't Forget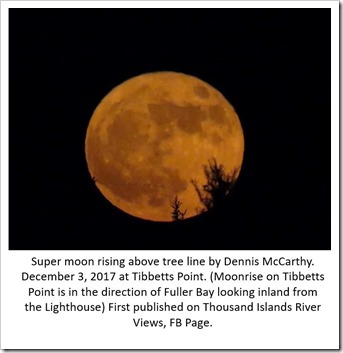 We certainly appreciate having you hit our button
at the top of each article and Support TI Life – although we: Authors, Photographers, Proof Readers and Editors – including this one(!) all publish TI Life as Volunteers, there are costs, including our Email Program - Constant Contact, and the fact that we must update all software, now working in its 10th year.
We also encourage you to Remember our Facebook page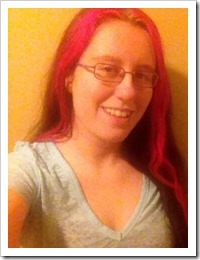 throughout the month, as we post information and photographs & follow us on

Please take your camera out on the River and capture River life during the holiday season! Send them to info@thousandislandslife.com.
And, this Editor is looking forward to receiving new submissions throughout the new year. I bet our readers are too!
Special thanks to editor Bill Stallan and proofreaders Rick Taylor, Georgia Barker, and Dane Zabriskie. I especially thank Mike Cox who is the magician behind the website. What a team …
By Susan W. Smith, Editor, info@thousandislandslife.com