June is here – more water in the River  - they say it will be a hot summer (Ya, sure…) and the June issue is filled to the brim!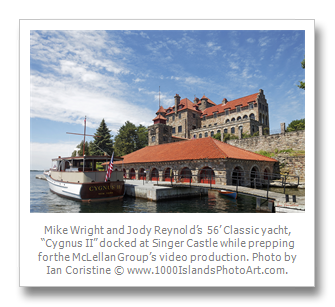 For the first time we feature a classic antique boat for sale with Michael Joyce's Have you ever considered owning a legend?.
Lorraine Payette's Same beautiful Park with a wonderful new Name… and Kim Robinson's Camping in comfort in Thousand Islands National Park invite you to the Thousand Islands National Park in Canada.
Lynn McElfresh tells real life story in Goldilocks? Is that you? and Brian Johnson writes the charming  A Grand 'ol Dame gets a facelift.. The Old House Museum on Wolfe Island.
If you like 1000 Islands history – then you will appreciate Spring River Stories by Tom French and Deborah Shaw's Our Lovely Man from the North Country.
Corinne Mockler explains What is the Land Trust anyway?
Morgan McLellan gives a RiverQuest UpDate… and presents an important new River program: The Shoal Sisters are calling to Shoal up Support while I introduce The Thrill of the Hunt… Gananoque's Flea Market.
We also present two photo essays.  Clayton's visitors, Photo essay by Janet Sullins and 2013 or 1913? Photo essay by Ian Coristine
New Contributors
Michael Joyce - Have you ever considered owning a legend?

Mike is the Chairman/CEO of Hargrave Custom Yachts in Fort Lauderdale, Florida and has been coming to the River since 1963. He began his career in the music industry in New York City before his love of boats and the Thousand Islands led him to purchase the Anchor Marina in Cape Vincent in 1968. In 1977 he moved to Florida to work for Hall of Fame yacht designer Jack Hargrave and has continued playing an active role in the marine industry since that time. His company builds custom yachts in the 70'-140' size range and he and his wife Jan own seven boats from 16' to 52' in length, including a 1964 25' Lyman that will be in this year's ACBS boat show in Alexandria Bay on Saturday July 21, 2013.

Deborah Shaw - Our Lovely Man from the North Country



Deborah Shaw is a non-traditional student at age sixty-one where she is attending Flager College in St. Augustine, Florida after having had a full business career working as a senior manager with AOL LLC, Dulles, Virginia and Brand Manager at Digital Equipment Corporation, Merrimack, New Hampshire. Deborah attended Université du Censier in Paris, France and Northeastern University, Boston, MA. And now completing a new degree at Flagler College.

Lorraine Payette - Same beautiful Park with a wonderful new Name…

Lorraine Payette is a freelance writer and photographer living in the rural Gananoque area. She is best known for her publicly appreciated works in the EMC St. Lawrence, and enjoys contributing her written and photographic efforts to groups and organizations she feels are important to the local community. These include but are not limited to the Humane Society, Salvation Army, Royal Canadian Legion, Army Cadets, and schools.
 

Morgan McLellan -  RiverQuest UpDate… and The Shoal Sisters are calling to Shoal up Support


Morgan McLellan was born in Toronto and raised on the River at Wood Isle, Lake Fleet, during the summer.   Morgan says he came to the conclusion that winters were too long and attended university in Hawaii. Upon graduating with a degree in International Relations, he joined CTV News Channel. After years of writing and producing, he joined his father's marketing company The McLellan Group in Toronto.  As a real River Rat like Doug McLellan, Morgan's father, we certainly look forward to seeing his name in print often in the coming months.

Janet Sullins - Clayton's visitors, Photo essay by Janet Sullins

A Maryland native, Janet Sullins, aka the Queen of Arts, received her art degree from Towson State University in 1979, with a concentration in watercolour. But, after a friend wanted her to take a class in stained glass, Janet was hooked and eventually worked for several studios, besides creating her own designs. Janet again switched gears some years later, learning to paint on silk. An avid scuba diver, a lot of her work was obviously water-themed.

After a dive trip to the St. Lawrence via Ontario, and finding that the art community on both sides of the river is very active, she decided in 2003 to make Clayton her home.  In the daytime you can find Janet serving as Deputy Clerk for the Town of Clayton, NY.

 
Rock Island Lighthouse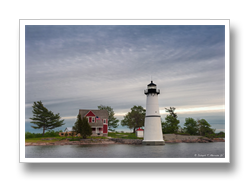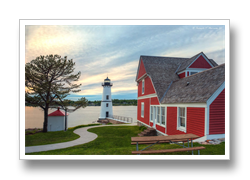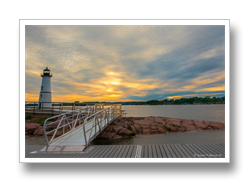 We thank Joseph T. Meirose IV, from Full Frame Works Photography, Sackets Harbor, NY, for sharing his pictures with TI Life of the newly renovated Rock Islands Light house, part of the New York State Park system.  

The Lighthouse is now open to the public with new docks, a museum, a gift shop and several historic displays.  You may visit on weekends until June 21 when the Park is open seven days a week until Labor Day. 

Mark Wentling, whose Rock Island Lighthouse: A Story of Discovery, was published in January 2009 TI Life will provide more information about the renovations in July.
Love your Park Day
Elaine Tack, Clayton summer resident and veteran broadcast journalist, produced a video featuring the I love my NY Parks Day, 2013.  There are many familiar Islanders and organizations on the screen – all helping prepare the New York State Minna Anthony Park for the summer.
Ready, Set, Go… Clayton Diving Club
On Saturday May 18th, members of the Clayton Diving Club helped Skip Couch move the Divers' Access Dock.   It was an team effort.  The dock is in place and awaiting railings, cables and part of the ramp.  Ken Kozin moved the dock from French Creek Marina to the end of Frink Park.  With Clayton Mayor, Norma Zimmer watching, the dock was connected to the end of the dock at Frink Park.  The Village of Clayton delivered the 1,000 pound blocks from Thousand Islands Ready Mix on Friday and Divers Bob Sherwood & Chris Malinowski used lift bags to move and place these blocks in their final locations. Joe Dudiak helped Skip & Dennis McCarthy with placement of ropes, chains and placing the T-bar ladder. Jo Dudiak went underwater to do some fine tuning of the existing chains & ropes.
Underwater video by Dennis McCarthy and still photos by Kathi McCarthy.
Antique Boat Museum "Old Boat Stories"
What fun!  The Antique Boat Museum shares their YouTube Channel with "Old Boat Stories"
Allan Newell, long-standing contributor to the ABM and Everett Smith, former curator of the ABM, tell the story of the restoration of the Splinter, a 28-long-decked launch built by the Morristown Boat and Engine Company.
A Bit of a Rant…
I recently stopped at the Mallorytown Service Centre on Highway 401.  It's brand new and has several fast-food kiosks.  There is a large screen video screen playing a series of tourist attractions under the heading "Ontario… Yours to Discover".  It showed many wonderful places to visit but the 1000 Islands were not included.
I was annoyed – why not include the Islands that are right there – less than a mile away…  so I wrote to Ronald Holgerson, the  President and CEO of the Ontario Tourism Marketing Partnership Corporation (OTMPC) .  To my surprise, he sent a response that very day and provided  the following: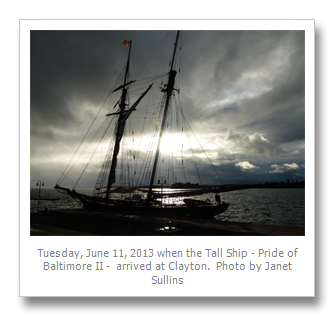 "…  In our current summer promotions, we were pleased to feature a variety of experiences in the Thousand Islands area in the ONTARIO magazine, on our Ontario travel blog and Facebook page, as part of a fam tour for the travel bloggers attending the TBEX conference in June, and in an Outdoor Adventuresemail linking to a feature story on our Northern Ontario site – to name just a few.  Visitors from China frequently take one of the various boat cruises available as well.

 

All of our promotions are designed to motivate consumers to visit OTMPC's website, http://www.ontariotravel.net/, where there is a wealth of information on the Thousand Islands and the South Eastern Ontario region. The content for the South Eastern Ontario pages are provided to us by the Regional Tourism Organization. We are happy to accommodate changes and updates anytime.  Ronald Holgerson, President & CEO, Ontario Tourism Marketing Partnership Corporation, Toronto, ON.
I close with my appreciation to Mr. Holgerson and look forward to seeing our region highlighted.  Together we can build better communities on both sides of the border.
Thanks all around
In May I asked what is your favourite place in the Islands.  Don Fredericks sent us his photograph and this lovely comment:
I wish to thank you and your colleagues for the wonderful ThousandIslandLife website.  I so much look forward to its monthly publication.  Words cannot express how pleasing to the eye and warming to the heart are the images and stories. Together with other River organizations, "TI Life" is quickly becoming a very very important resource for remembering the region's history and shaping the region's future.  Again, thank you!

We thank you Mr. Fredericks and all our readers!

_________________________________________________________________________________________________________
Wanted:  Please get your cameras ready! Assignment for JULY:  Landscapes, festivals, wildlife, fishing trophies, water activities, people and parties… to info@thousandislandslife.com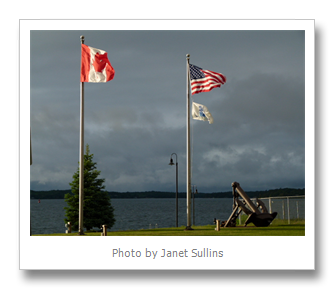 Be sure to check our EVENTS page often each month.

Be sure to check our facebook page throughout the month,  as we post information and photographs . Follow us on Twitter

Do you write about the River  - near to it, from above or below?  If so, please consider submitting an article.  Let us know what you like, or dislike, about TI Life  so we can share more ideas.
By Susan W. Smith, Editor  susansmith@thousandislandslife.com
Special thanks to our editors David Ray, Georgia Barker and Jane Taylor.  We also thank those who leave comments on our articles or ask questions. The more the better.