The water level is still high, but there is hope! I received news from neighbor Bob Street the morning he found a dock at the end of his path. I ran to the shore and checked and sure enough the water had receded, as they say, a "smidgen."
I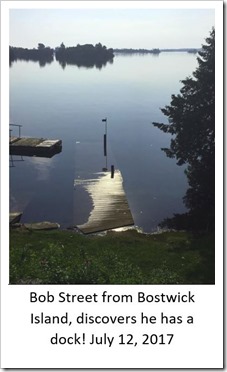 received an email after the June issue, requesting some articles to cheer us up, the lady was tired of all the bad news. So sit back and enjoy July 2017!
How about Beaver Tales by Lynn McElfresh and Patty Mondore's Peace Like a River!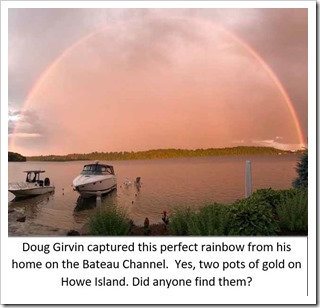 Hungry? then enjoy Stewart Dutfield's Indian Takeout by Kayak.
Relax and enjoy "Rusticate" with Kris Pinkney; or learn a new photography technique in Fireworks Photography with Richard and Pat Barlow?
Two stories about religion! The past with Bob Anderson supplying an amazing review in Mixing Religion & Land Leases - A century-long nightmare; and mark your calendar for BBC Visits Half Moon Bay, August 9, 2017.
We conclude with Dan LeKander's Sudoku Puzzle # 27, July 2017; A Celebration of Shallow, by Clarissa Rogers.; and the important message given by Kara Lynn Dunn in River Property Owners: Report High Water Impact or Not.
New Contributors
Bob Anderson - Mixing Religion & Land Leases - A century-long nightmare

Bob Anderson is a lifelong summer resident of Butternut Bay and a besotted river rat. His grandparents first arrived at the Bay in 1920 and Bob and his wife Sandra and their 3 children and six grandchildren constitute the fourth and fifth generations of his family at the Bay. He was also President of the Butternut Bay Association Inc. for over 30 years.

Clarissa Diane Rogers - A Celebration of Shallow,

Clarissa Diane Rogers, a member of Cape Vincent's Poet & Writers, Ink has a MA in Transformative Language Arts who loves to support other writers through editing, coaching and workshops. She believes that writing is a tool for liberating our minds and healing our communities and can take us on a wacky adventure full of joy and fun, even in a world that routinely breaks our hearts. clarissadrogers@gmail.com
Richard and Pat Barlow - Fireworks Photography

Richard and Pat live a few miles downriver, near Maitland, ON. They were Torontonians, who retired and moved here in 1999. Pat was a dental hygienist and Richard was a technological studies teacher. He taught high school photography for many years. They are members of the Brockville Area Photo Club

Stewart Dutfield - Indian Takeout by Kayak

Stewart Dutfield has been coming to the Thousand Islands since 2000. At Thousand Island Park he divides his time between kayaking, swimming at the rocks, running in the Minna Anthony Common Nature Center, and riding old Indian bicycles.
Mini Issue: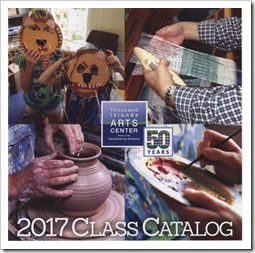 On July 1st we published a mini issue of the Thousand Islands Life, to celebrate the 50th Anniversary of the Thousand Islands Arts Center in Clayton NY. What a pleasure it was to learn about this remarkable North Country treasure – be sure to read the tributes and more importantly take advantage and visit.
The 50th Retrospective includes the Video produced by Elaine Vedette Tack; Celebration Events by Jessica M. Phinney; How it all began… by Susan W. Smith.
Tea at Miss Post's Cottage–July 12, 2017 by Caroline Holt Larson; There's an Arts Center in Clayton? by Judy Foster and Tributes from Friends… put together by Chris Murray
We conclude with An interview with Sonja Wahl, Curator Emerita, by Elaine Vedette Tack.
________________________________________
TI Poker Run – June 14 & 15 a Success!
Reports are coming in – but suffice to say it was a success. Congratulations to all. Our thanks to Doug Tulloch for making this happen!
FUN FACTS FROM THE FUN FOLKS AT THE FUN 1000 Islands Charity Poker Run...
So far this inaugural run has..
70+ Boats
80+ Volunteers
20+ marshal boats
40+ marshals
3 dedicated safety boats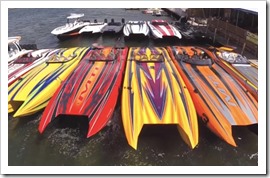 2 fire boats
6 scuba divers
4 paramedics
1 helicopter
2 nations, multi-county safety plan lead by TIERS covering 7 jurisdictions
300 dinner guests
300 Dinosaur BBQ eating lunch guests
Bands 2 nights
2 DJs
6 dock attendants
2 security personnel
135 miles of boating
19,500 visits to the OSO thread for this event.
10,000+ visit a week on Facebook
1 organizing Committee
36 sponsors
1000 thank yous from us to you for all of the support
#1000islandsrun
How 'bout that?
________________________________________
Editor's Rant…
I am sorry. I do try not to get too opinionated about River life, but this year I keep hearing about issues.
Item 1.
I begin with the economy of our small communities – all impacted by the perception that we are flooded. However, there is good news with "Tourism Campaign Fights Back Against High-Water Misconceptions"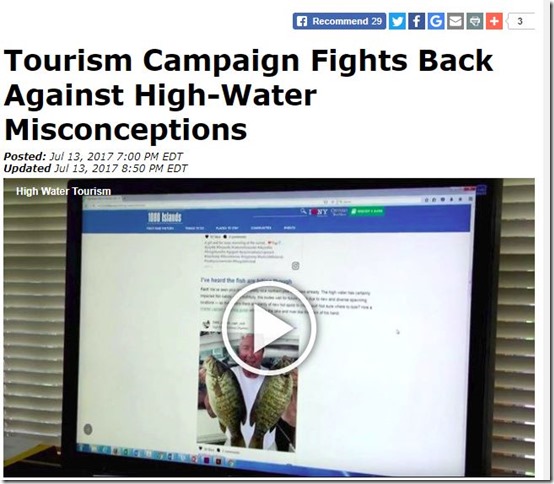 [Click to view video]
Posted: Jul 13, 2017 7:00 PM EDT Updated Jul 13, 2017 8:50 PM EDT, on 7 News, WNYF Fox 28 publicized a video.
Yes, the Thousand IslandsI Council has put together an informative website - http://www.visit1000islands.com/high-water-fact-fiction/ - focusing on the questions tourists (and cottagers) are asking. "Nobody is boating, "I've heard the fish are biting though… All the marinas are closed..Campgrounds are open, right? The beaches are closed!." Need the facts? Look at the site – tell your friends and family – those who are suggesting they may cancel their holiday this year, maybe not launch the boat – Tell them the Thousand Islands are just as beautiful as past years and there is just as much to do. Just come and find out.
Item 2.
High Water damage. On July 3, I posted a letter I had received and sign I made, on our Facebook page. It received over 14,000 views from 100 likes.
Dear Ms. Smith,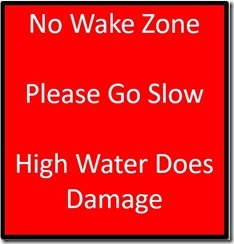 I read with interest your recent article about high water levels in the St. Lawrence and the resulting shoreline impact of boat wakes. I am a property owner along the river in The Narrows between Wellesley Is. and the American mainland. I have been watching with growing alarm the consistent and flagrant disregard displayed by boaters who cast enormous wakes, especially those who are piloting large cruisers. They seem oblivious to the fact that their wakes are incrementally destroying the shoreline, docks and boathouses as they plow through the water. Repeated calls to the office of New York State Senator Patti Ritchie, NYS Police, Park Police, the Jefferson County Sheriffs Department, Save the River and even New York Governor Andrew Cuomo's office have all produced zero results. I recently visited the Thousand Islands Boat Museum in Gananoque to pick up a "No Wake" sign that was made available to members of the Thousand Islands Association. Thus far I have been unable to locate any kind of organized effort to address this problem on this side of the river. I would like to see the shoreline PAPERED with No Wake signs all along the river. At a minimum, enforcement of the emergency 5 mph speed limit (within 600 ft of shore) would be a nice start. I have yet to see any evidence of enforcement, much less a police presence on the water.
This really is a crisis, not just an inconvenience, for everyone concerned about the river. It's sad and discouraging to see how little concern is being focused on this problem by officials and the careless disregard being displayed by uninformed and disrespectful boaters. To those few who are moderating their speed and making an effort to minimize boat wakes, I say THANK YOU.
Letters like these and many phone calls, have produced some results – now the US police are out on seadoos and you better slow down in Picton Channel and many similar narrow places. Also the Township of Leeds and the Thousand Islands has placed the subject on their meeting agenda. The Thousand Islands Association will have a guest speaker at their annual TIA Breakfast, Saturday July 29, (Thousand Islands playhouse, Gananoque, ON) on the subject of how high, how long etc. and you can be sure there are opinions at every dinner table.
My opinion: Yes, the water is doing damage. Watch your wake, but in reality the water may remain high for some time. Wind and wakes will damage structures, seawalls and docks. Take photographs now, before all the damage is done – and understand that you will have to suffer the cost of repairs. Most, not all, mariners are polite, but be prepared if this lasts two or three years.
Item 3
Email received this week about the public launching ramp in Gananoque put me over the top!
When I arrived at the PUC Saturday morning there was already an argument in process twix another boater and the bylaw officer. As I exited my car I was advised that I could not park there. I explained about that funny thing called 'boat' following me around and that I was about to launch it. After launching I pulled up and parked because I had to explain to our visitor how to get back to our dock. The l/e officer told me to move my car and did not accept my explanation re directions to our visitor to our dock. I went to our visitor and gave him directions etc.
The l/e officer ticketed me.
So I may have the very first parking violation from a town that requires you to launch your boat without stopping.
For a town that is so quick to permit more & more docks in navigable waters it is difficult to assess the level of municipal cerebral ordinance in the execution of same.
Friends, we are witnessing the death of common sense.
Happy boating, wear your life jacket...... to the launching ramp; It might help confirm your intentions and maybe, just maybe, save you a parking ticket.
I wrote back that I was annoyed. Why? Myself, and over 300 writers, have written over 1000 articles over the past decade, about the Thousand Islands and our 22 communities,. When I think about the time and effort everyone puts into producing TI Life … all to build pride in our region, it makes me scream.
The Town of Gananoque does so much good in the region (and I thank them most sincerely). Council supports organizations that make the town special. In addition, the town also spends hundreds of dollars on tourist brochures, flags on the poles and planting gardens… but in a matter of minutes all the goodwill is wasted. Giving parking tickets - not warnings - to tourists and summer folk seems to me to be wrong. Someone suggested, change the schedule and ticket the snow plows if they slow down in January and forget the summer all together.
My conclusion: Let's all work together to raise public awareness that the River is open for business. Let's wave a friendly welcome to mariners, fishermen, and most of all families as they ply the River. Let's all continue to provide a good Thousand Islands Life.
________________________________________
TI Life Comments!
As soon as an issue is posted for TI Life, I check for comments. It is like getting a birthday gift every day, as we appreciate the many comments our readers leave often on stories that were posted many years before. (Sometimes it takes a day or two to see the comment posted, as I check each one to ensure they are real, and not related to selling tee-shirts, shoes or body enhancement products!)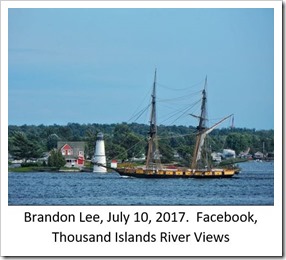 This month the comments were interesting and important: Here are two examples.
Oak Point- Where Else?
Kathleen Thomas
7/8/2017
207.42.20.14
Comment: Nancy, thanks for your post. Your memory serves you well, Harry and Ivy Dake were my husband's grandparents. The Sisson clan and Billings clan are still a vital part of Oak Point life. The hotel was sold to the Presbytery of Northern New York and became a summer conference center, later abandoned and then the property sold piecemeal to various Oak Point families. The store was called the Trading Post and various families over the years ran it and the camps around it. The building was rebuilt as a summer home. A few years ago two families of the Sisson clan bought it and the camps, tore down the camps and built new ones. Known as Oak Point Lodges, they are rentals and often filled with the same people every year who hold Oak Point dear. The Big House and its boat house out on the point are still in the Sisson family. You may want to check out the website oakpointny.com. It is a work in progress, but has some interesting information and pictures you might like to see.
Which cottage did your family own?
---
"That's Her" Story…
Charlie Hofer
7/8/2017
24.192.39.193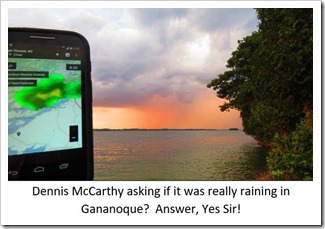 Comment: I am a direct descendant of Eldridge and Brainard Robbins, Eldridge is my great-great-great Uncle and Brainard is a cousin, I knew they were builders and heard stories about them on the water, but I never saw anything they built, that's a fine ship and I am so proud that something built so long ago is so well preserved and maintained. Beautiful story and ship.
_______________________
Sad News
Georgia Barker has been a TI Life proofreader for several years and this month we learned her husband, Elwyn V. Barker, died peacefully in Blairstown, NJ, on July 8. Elwyn and his family enjoyed 28 years of summers at their home at the St. Lawrence River in Clayton, NY, along with their "extended NY family." We join their many friends in expressing our sympathy.
Please Don't Forget
We certainly appreciate having you hit our
button at the top of each article and Support TI Life – although we: Authors, Photographers, Proof Readers and Editors – including this one(!) all publish TI Life as Volunteers. However, there are costs, including our Email Program - Constant Contact, and the fact that we must update all software, now working in its 10th year.
We also encourage you to Remember our Facebook page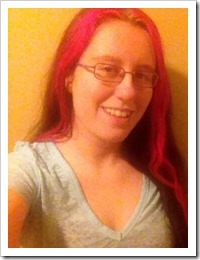 throughout the month, as we post information and photographs & follow us on

Please take your camera out on the River and capture River life for us. Send them to info@thousandislandslife.com.
And, this Editor is looking forward to receiving new submissions throughout the year. I bet our readers are too!
Special thanks to editor Bill Stallan and proofreaders Rick Taylor and Georgia Barker. I especially thank Mike Cox who is the magician behind the website. What a team …
By Susan W. Smith, Editor, info@thousandislandslife.com